Jaquet FTFU 3024-E01 - FT3000 frequency relay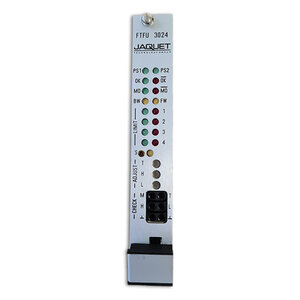 Jaquet FTFU 3024-E01 · 377Z-03981 · FT3000 frequency relay · overspeed protection system card · single channel or voting structures
---
Note: This is final stock; the Jaquet FT3000 was discontinued (declared obsolete) by its OEM.
Note: This is a new product, so not refurbished. 
FTFU 3024 Motherboard
The FTFU 3024 forms the basis of the system. The card offers fast detection of overspeed and acceleration and has various industrial outputs. Refer to the datasheet for technical specs.
Jaquet FT3000 - overspeed protection system
The FT3000 is a multi-channel rack-mounted overspeed protection system. The high-integrity, redudant system concept offers advanced protection on speed and acceleration for large rotating machinery. The system is conform the API 670 guideline and is certified for SIL 3 applications. 
The FT3000 was declared obsolete by the OEM and can be replaced by SpeedSys. Read more here »