Jaquet FTV 3090 - FT3000 relay module - Refurbished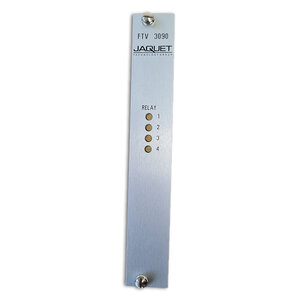 Jaquet FTV 3090 · 377Z-03985 · FT3000 relay module · overspeed protection system card · single channel or voting structures · Refurbished
---
Note: The Jaquet FT3000 was discontinued (declared obsolete) by its OEM.
Note: This product is in the refurbishment process, and is available on request. 
FTV 3090 relay module
The FTV 3090 offers four relay outputs with four changeover contacts each. The relays can be assigned to limits or status functions. Refer to the datasheet for technical specs.
Jaquet FT3000 - overspeed protection system
The FT3000 is a multi-channel rack-mounted overspeed protection system. The high-integrity, redudant system concept offers advanced protection on speed and acceleration for large rotating machinery. The system is conform the API 670 guideline and is certified for SIL 3 applications. 
The FT3000 was declared obsolete by the OEM and can be replaced by SpeedSys. Read more here »
Refurbished products
During the refurbishing process of the Jaquet FT3000 cards, several steps are carefully taken:
The cards are inspected thoroughly.
Any malfunctioning or defective components are replaced. Components that are known to degrade over time are preventively replaced. 
Subsequently, rigorous testing of the cards takes place, and the results are documented in a comprehensive test report.
Each refurbished product comes with a renewed warranty of 3 months. If any issues arise with the product during that time, it must be returned to us for inspection. If repair is not feasible, the purchase cost will be refunded.
Istec& Jaquet
Istec and Jaquet have a long history. Istec started as part of the Jaquet Technology Group under the name Jaquet Services, and later continued under the name Istec International. Istec has since become independent and a renowned distributor of Jaquet products within the Benelux for decades. This region expanded when Jaquet was acquired by TE Connectivity, and Istec became main distributor of the Jaquet speed sensor range in the EMEA (Europe, Middle-East & Africa) region.